The Anxiety with Change
As we move into the second semester our mindsets change in different ways. Each grade level within Ross High School has anxieties that come along with the school year. Whether it is making a sports team, choosing classes, or preparing to graduate, each one takes a toll on high schoolers mindsets. 
Freshman and sophomores may be thinking about their classes for next year, and whether or not their path is Ross High School or Butler Tech. For other students they are thinking about starting their journey outside of Ross early. 
Sophomore Callie Jones stated, "I'm not really sure of my plan for next year because I have spoken with my counselor and have been thinking about graduating my junior year. But the more I think about it, I would rather just leave early during the day like the rest of my friends in our junior year."
Other students may not see graduating early as an option. They either never ask or do not feel as though they have the amount of credits to graduate. This idea can also cause fear with how it will affect their future. 
"I have a fear for my education in my future because I don't know what I want to do when I get out of high school. Thinking about it makes me scared because I just have the thought of what if I never figure it out or what if it takes me a long time to decide. I also feel as if I don't know how to figure it out," stated Jones.  
For some, college is just right around the corner or coming into the conversation. As juniors and seniors enter into this last semester they may be thinking about college or the process of applying and whether or not they are prepared. 
Junior Dylan Pence stated, "I'm afraid that I won't have the same opportunities as my predecessors. As far as getting college credit while in high school goes, scholars such as myself and many others will lose the ability to do so."
As the school year progresses many impending thoughts about the school levy hit hard on students and faculty. For many as more information comes out thoughts such as Pences are only getting worse going into scheduling for next year. 
"I feel prepared. These circumstances are unprecedented for the time, and I feel that I have done everything in my reasonable ability to take advantage of college prep and college credit courses while they are still around. My plan is to take college classes online for free if I can" Stated Pence. 
As Juniors prepare for the application process of college next year seniors are moving past it. As the class of 2023 enter into their last semester of high school the mindsets are changing. Whether it is due to waiting for acceptance or preparing to move or even to stay at home. 
Senior Bella Vanderbilt stated, "I'm most afraid of picking the wrong school and not making any friends. I'm not afraid of this because picking a school is one of the biggest decisions you're going to have to make and that when I actually make it I'm going to hate it. Then I've lost all my other options and scholarships."
For many seniors these big changes are a huge fear, and for most the fear starts early on. The thought of moving, and leaving friends and family is hard. But as lives change and seniors graduate it is a decision to be made. 
"I feel both prepared and unprepared for moving forward. I've gotten a lot of pre-rec classes out of the way with hopes that it will take time off my degree. I also feel unprepared because I have nothing prepared or finalized like roommates, dorms, parking pass, the little things like that haven't even crossed my mind" commented Vanderbilt. 
All grades experience numerous anxieties going into the changes that come with school. Especially this school year and going into the next, there have been different anxieties and changes around the school levy, with how everything will look going into next year with academics. Student counselors, teachers and parents are great options to speak with to help quiet these anxieties and come up with a plan.
Leave a Comment
About the Contributor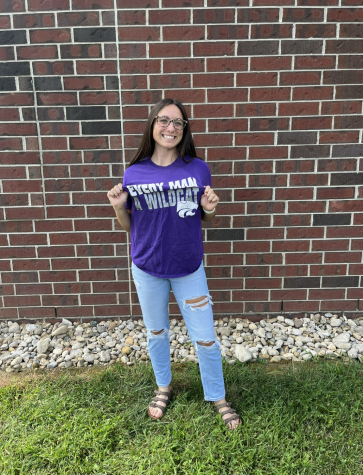 Estella Varner, Sports Editor and Staff Writer
Estella is a senior in her third year of journalism serving as the Sports Editor and Staff Writer. She is on the RHS swim and softball teams, and serves as the Student Athletic Trainer, Vice President of FCCLA as well as a part of a club soccer team and competitive dance team. Outside of school she enjoys spending time with her dog Apollo, friends and family. Estella plans on going into an Exercise Science degree with the path of Athletic Training post-graduation as well as playing college soccer at Mount Saint Joseph University.