FCCLA: Helping the Community One Plate at a Time
On Jan. 17. FCCLA members and advisors visited Serve City, a homeless shelter located in Hamilton. The student members acted as workers and volunteers to help serve the needs of Butler County's low income and homeless individuals and families. 
FCCLA is a leadership based organization that encourages members and advisors to be involved in the community. The Butler Tech Ross High School chapter was given a grant from Butler Rural Electric to allow the members to get supplies for involvement in events such as this. 
 14.6% of people in Ohio are homeless and without shelter. According to website, The Centersquare. Serve City allows low income and homeless to have a place to be when they are in need, they also have rehabilitation resources that allow everyone to get help and with the hope of getting up on their feet. 
FCCLA has numerous community service based projects that members are able to participate  and compete in. Sophomore Maddie Webb and Freshman Morgan Holmes have decided to participate and use Serve City as their focus for their project. 
FCCLA advisor and Culinary teacher Mrs. Roberts' cooking classes baked brownies to help contribute to the meal prepared. Members gave out sandwiches, soup, pasta salad, a variety of chips, cookies as well as pop to drink. While serving, members got to speak and spend time as the individuals gathered and ate. 
Webb stated, "The importance of this service is to give people easy access to basic necessities, like food, that individuals may not have the financial income for. I chose to do this because I want others to understand the importance of kind acts and caring for others."
"Meeting and talking with people that the service is benefiting was very rewarding. You quickly realize that they are just regular people and enjoy speaking with them. Seeing their faces when they walk in and see the food was very rewarding. It is also great knowing that you are helping feed people who would otherwise not get food," stated Holmes. 
Over 50 individuals showed up to be served and came hungry. As many went through the line, members saw their faces more than once as they came through to get seconds. This was an impactful experience for everyone including FCCLA chapter President and Senior Olivia Mueller. 
Mueller stated, "My participation in this organization has impacted my future by changing the way I perceive homeless people. Through simply having small conversations with them, I recognize that these people have the same feelings and experiences as me. I would love to partake in this organization again."
All members were encouraged to participate and help at Serve City. The group plans on going again this year,as they work towards finishing projects and coming together as a chapter. If interested in joining FCCLA officer applications and sign ups start at the end of the school year in May, see Mrs. Roberts room 155 or Mrs. Mann's room 153 for more information.
Leave a Comment
About the Contributor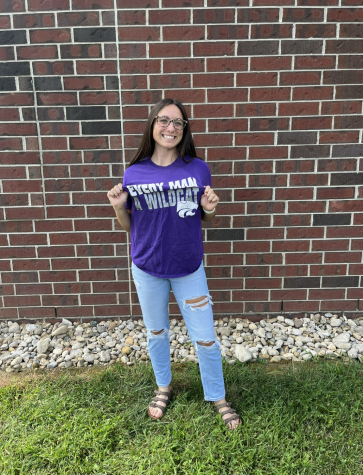 Estella Varner, Sports Editor and Staff Writer
Estella is a senior in her third year of journalism serving as the Sports Editor and Staff Writer. She is on the RHS swim and softball teams, and serves as the Student Athletic Trainer, Vice President of FCCLA as well as a part of a club soccer team and competitive dance team. Outside of school she enjoys spending time with her dog Apollo, friends and family. Estella plans on going into an Exercise Science degree with the path of Athletic Training post-graduation as well as playing college soccer at Mount Saint Joseph University.