"Ginny and Georgia" Finally Releases Their Successful Second Season
Although it has been a long two years since the first season aired, fans of the popular Netflix show, "Ginny and Georgia", came back stronger than ever after its second season was released on Jan. 5, 2023.
"Ginny and Georgia" is a series centered around the social lives of the Miller family, which includes Virginia "Ginny" Miller, Austin Miller, and their mom, Georgia Miller. Filled with drama, romance, and comedy, the show captures how the Miller's lives have changed after finally settling down in the fictional city of Wellsbury, Massachusetts.
When asked who her favorite characters were, sophomore Emilee Peters stated, "Ginny and Abby because their issues relate more to me, obviously some of their issues are a bit more extreme than mine. But they both are teens trying to get by even though they have family problems, friendship drama, and low self esteem." 
The series' accurate representation of mental health in teens has received a positive response from viewers across the Netflix platform. On a scale from one to ten, one being terrible and ten being amazing, Ross High School students rated "Ginny and Georgia" an average of nine stars in a survey that received five responses.
Sophomore Stephanie Gottlieb stated,"I think overall "Ginny and Georgia" is a fun, relatable show even though it is dramatic at times."
Many RHS students believed that "Ginny and Georgia" had a great balance of drama, romance, and comedy. Although both seasons are very well written, most RHS viewers preferred the second season over the first because of how well it portrays the emotions experienced while dealing with mental illnesses. 
"Ginny and Georgia" is a show that will consistently keep you on your toes. Plot twists happen so often in this show yet the writer, Sarah Lampert, still manages to keep them hidden until they're announced. 
Opinions change about characters fairly quickly, but an all-time favorite from the second season has to be Abby Littman. Viewers find Littman very relatable due to her perspective of her own body. It is relatively common for teenagers to have insecurities, and Littman represents the feelings and thoughts that go through a typical teenager accurately. 
Despite the fact that "Ginny and Georgia" fans have many positive opinions towards the show, viewers also have some things that they wish were done differently. Many wished that the break between the two seasons had been shorter, and others wished that there were more explanations to different events. The survey results show that the "Ginny and Georgia" audience was very pleased with the release of season two and plan to continue watching the series until it comes to an end. 
Ending on a cliffhanger, RHS "Ginny and Georgia" fans are hungry for more as they patiently wait for the announcement of the third season's release date. If interested, you can visit the official Netflix Instagram page, @netflix, for the most recent "Ginny and Georgia" updates.
Leave a Comment
About the Contributor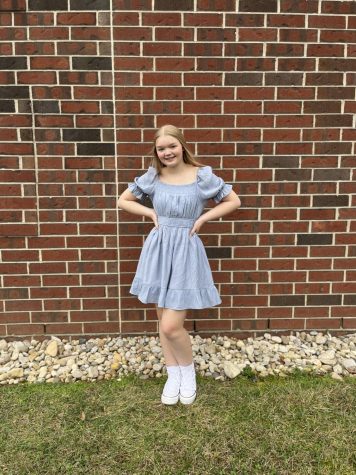 Sarah Eldridge, Staff Writer
Sarah is a sophomore at RHS who is in her first year of Journalism as a Staff Writer. She loves going on road trips with friends, and is involved in the Ross Legacy Show Choir. Although she loves music, she has other hobbies such as painting and baking. She works hard to maintain good grades, and greatly appreciates the constant love and support she receives from her family and friends.