This year's annual homecoming football game was held on Friday, October 6th, and the Ross Rams took home a huge victory. With the help of our Band and The Herd, we were able to boost the spirits on and off the field.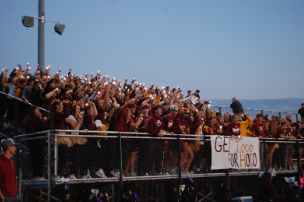 Homecoming is always an event that students look forward to every year. Not only are you around friends, but you get to show your school spirit. For homecoming spirit week this year, we had a different variety of options to represent our school. On Monday, we started off strong with Ross gear and continued the week with PJ Day, Country Day, and Jersey Day. To end the week off, everyone wore their class color on Friday. Lots of students attended the pep rally, in perfect timing for everyone to stay "hyped" for the football game in just a few hours. The theme for this homecoming game was Maroon and Gold Out. Within just the first quarter, Sami Elliot, a current sophomore, stated, "Lots of people showed up today wearing Maroon and Gold, I think it's great and represents us as a whole. I mean who wouldn't own Maroon or Gold, if you're a student attending Ross? We had it for spirit week also, so it shows our school colors in 2 different ways, I love it." With that being said, our student section was definitely packed. We had a speaker to play music when necessary, and The Herd leaders said they would definitely be taking it to the next game. It's very important for us to stay loud in The Herd, even when we're not doing well out of the field. It helps the players on the field stay focused and keep all tensions high.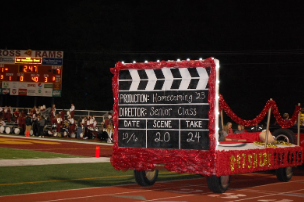 As halftime gets closer and closer, we're still in the lead. At the end of the second quarter, the current score is 21-7. Now it is time for the homecoming activities. As the Band makes their way to the field, they announce our homecoming nominees. For our Freshman representatives, we have Madelyn Rednour and Hayden Stewart. Our Sophomore representatives are Kinley Alexander and Brandt Kugler. Representing our Junior class are, Sydney Mackie and Carson Sabers. Our several Senior representatives are Kaitlyn Lampe and Derrick Rack, Ella Mohr and Luke Dunn, Ava O'Connell and Brayden Bastin, Lauren Rack and Ben Rickett, Myrissa Combs and Black Owens (Butler Tech). As Mrs. Hudak received results of the Homecoming Queen and King, it was announced… Lauren Rack and Ben Rickett. Lauren exclaimed, "It felt incredible being nominated by my peers to be on the court. It was unexpected and I'm very grateful.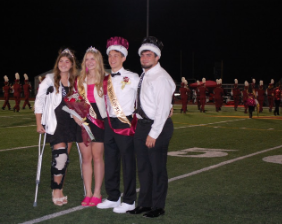 When I was on the field as homecoming queen, I felt such a rush and was so thankful I was chosen to represent the couple." As you can see, Lauren feels as if this was very unexpected, and she was very thankful. Others on the field may have been stressed out, as they were just standing there, Lauren and Ben, we're both very excited to represent their school Homecoming Queen and King. As both of their families couldn't stop cheering and taking pictures for the two of them, our student section kept getting louder. As one of Lauren's best friends, Hannah Rumpler said, "This homecoming game felt so surreal compared to any other Friday night. It was like a dream and was such an adrenaline rush to be there." As a senior, experiencing their last homecoming football game, they were both very joyful with the turnout.
Story continues below advertisement