Girls Soccer's Success
Hang on for a minute...we're trying to find some more stories you might like.
The RHS girls soccer team has returned from the 2017 season with a big senior class, a new head coach, and a winning attitude. Next stop: SWOC title.
The girls soccer team started the season with two ties. One being to a very talented Mariemont team, then tied with returning state champions, Indian Hill. A lot of game day preparation went into the Indian Hill game.
Coach Jessica Buehner said, "I knew we had the talent to beat Indian Hill, it was more of getting the girls to believe it. I do my best to instill confidence in them by making sure they know I believe that if they can beat anybody… We also marked their 2 best players man-on-man. It worked great, neither of them scored. We shut them down."
Buehner was pretty excited with how the girls played but the players were ecstatic with the result.
"It was a great feeling and a real confidence booster," said Senior, Savannah Hollstegge.
After the big Indian Hill game, the girls team went on a four game winning streak. They won these games by scoring 18 times and only giving up three goals to their opponents.
Olivia Clayton, senior, said, "I didn't have the highest expectations going in because we basically got a new coaching staff… I thought we would do good because we have a lot of talent, but not as good as we have been doing."
Though the Rams have cooled off from the hot streak lately, tying SWOC rival Little Miami then losing nail biters to East Central and Talawanda. However, Coach Buehner isn't worried.
"The issue with being undefeated is that you begin to feel "invincible" and you don't think about the consequences of not showing up until it's already happening. I feel we've hit a bit of a wall, if you will, but I have full confidence that we will bounce back," said Buehner.
The girls hope to get back on track.
"If we play how we know how to play, I know we can get back to our winning streak," Hollstegge said.
The Rams did indeed bounce back with a 2-0 win over the Harrison Wildcats on Sept. 20. Another SWOC victory put them at 5-1-1 in conference play and 5-2-3 overall.
"The SWOC title is as important, if not more important than the state tournament. We like to take things one game at a time and that means winning SWOC before tournaments even start. If you lead your league, you get more girls recognized, you get a better bid, and you get better seeding. The SWOC title is also great bragging rights!" said Buehner.
It was mutual between the girls and Buehner that a SWOC championship is a priority.
Clayton said, "The overall goal of the team is to win SWOC and go far into the tournament."
Hollstegge said, "My expectations were pretty high, I went in looking forward to a good senior year and hopefully winning SWOC."
The girls soccer team will battle with SWOC rival Mount Healthy at home, Sept. 25 at 7 p.m. Cost to get in is 5 dollars for students, 7 dollars for adults. The game against Badin that was scheduled for Sept. 24 was postponed until early October. Make sure to support your favorite girls soccer team as they keep this great season rolling.
About the Writer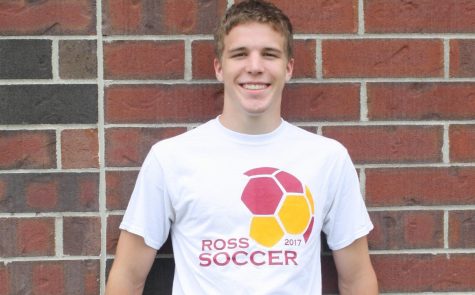 Brayden Ploehs, Staff Writer
Brayden Ploehs is a senior at Ross High School and this is his second year of journalism. Brayden enjoys participating in sports such as Cross Country and Wrestling. He plans on going to the University of Cincinnati for a degree in engineering.