A Day in the Life of a College Student
Hang on for a minute...we're trying to find some more stories you might like.
Throughout high school, students are pressured to make a post-graduation plan. One option is college, but what exactly does that entail?
Ariel Williams is a junior at Miami University, Oxford and is an art education major. Her typical Monday is pretty busy, and the Ross High Times joined her for a day in the life of a college student.
8:00am –  Williams wakes up and prepares for her first class of the week. She eats breakfast, and then has a friend drive her to class.
8:30am to 9:50am – Williams has her Music Education class to start her day.
Williams said, "My music education class is basically just how to improve students' literacy through the use of music and art class."
9:50am to 1:15pm – This chunk of time is Williams' free time for the day. She typically walks over to the music library and works on homework.
"[This Monday,] I worked on my Field Botany discussion post. I had to read some articles about GMOs in food, so I had to read a couple articles about it and then write down a response about what I previously knew about GMOs, what the positive and negative effects are, and if I think that they should be used or not," stated Williams.
1:15pm to 5:15 pm – As a sprint course, Williams has Field Botany from 1:15pm to 5:15pm.
"A sprint course is a class at Miami that is half a semester, and usually they're longer hours or more frequent so that you're fitting in the same amount of content just in a quicker time period," said Williams.
5:15pm to 6:30pm – After her botany class, Williams walks back to her house that she shares with her roomates.
"I don't have that much time, so by the time I walk back from my Field Botany class, I'm home a little before six; and then I have to leave for Young Life at 6:30, so I usually make a quick dinner or get a shower really quick…" said Williams.
7:00pm to 9:45 – At 7:00pm, Williams travels to Ross for Young Life. Students meet at a house for a Bible study called Campaigners, where Williams is one of the leaders.
10:00pm to 1:00am – After Young Life, Williams drives back to her house in Oxford. Then, she works on homework, eats some snacks, and spends time with her housemates. On a "good day," Williams said she usually goes to bed at 1:00am.
For any students planning on attending college, Williams offers some advice.
Williams stated, "My advice would be to find a community of friends because your first year of college can feel really isolating and lonely. Also, prioritizing your school work; I learned a lot about time management, in some hard ways too. It's a learning process of figuring out how to use your time effectively, and that's okay. It takes a long time to get in a rhythm."
About the Contributor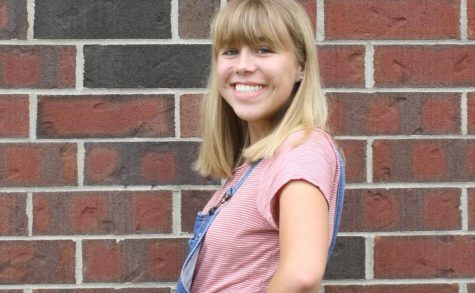 Katie Ledford, Features & Multimedia Editor
Katie is a senior in her third year of journalism and she's an editor. She likes running, and she's the Varsity Girls' Team Captain on the cross country team. She's also the president of NHS and VAB. After high school, she plans on leading Young Life and attending college for a major in math education and a minor in Spanish.