Silent Battles
I never really step out of my comfort zone. I feel like I am always watching from the sidelines and I am never able to really help or make a difference, like with my sister's mental health. I had been struggling with watching my sister go through multiple different mental illnesses my whole life. It's not her fault that she has them and I know she cannot control them but as her little sister, just watching her go through all of those things and not being able to help her is hard. 
Since I was a little girl, I have had to watch my sister suffer with mental illnesses. She and I were both young as well. Watching her have to go through that while not fully understanding what was going on was really confusing and hard on us. My sister was in and out of hospitals for suicide attempts and threats. I never completely understood why she would want to leave us. I always thought that if I was a better person, or if I talked less, or maybe if I were around less, then she would want to stay. I always thought that she did not want to be in this world anymore because of me or our family. I never knew what she was really dealing with. 
It got worse when I started to get older, because my younger sister and I both started going through things. I also started to realize what was actually going on with my older sister. It made me so mad that there really was nothing I could do. 
My sister had never tried to hurt herself or do anything in front of me until I was older. She had just gotten out of a relationship, and was entirely broken. We were coming home one night, it was very late and she was giving up. As I watched her try to take her life, my parents fought to save her. I was so shocked and I couldn't hold back my tears anymore. Our relationship changed that night. I never thought that she would do that in front of me but I also never really knew what she was going through.  
After that night I really felt like I was watching from the sidelines and like some people didn't even notice me. I felt selfish thinking about it since my sister was struggling with so much but at the same time I felt like my sister had never really seen me, like I wasn't around when she was struggling. When she gave up that night I felt like she would never understand that I would always be there for her and I would never hurt her. I would always try to be strong for her. 
My sister has been improving these past few years and our relationship is stronger now. Although she still struggles with her mental health, this is the most stable she's been in her life. Even though this is my story my sister is a big part of my life and I love her dearly. I wanted to share this so that those of you who have family members going through similar situations know that you are not the only ones.
I have been through a series of battles in my life, many of them with my sister, but that doesn't mean I will love her less. I would never want to hurt her or do anything that wouldn't help her. So as I share part of my story with you I hope that you would find the courage to do the same, so that it can reach others and you can possibly help them too. 
View Comments (1)
About the Contributor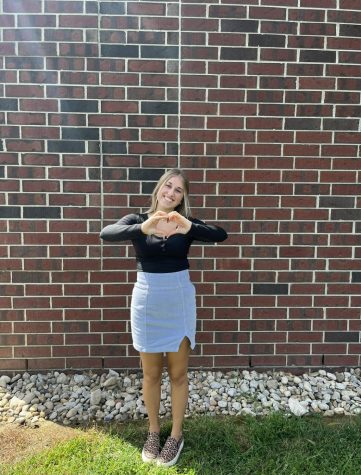 Payton Jones, Staff Writer
Payton is a senior in her third year of journalism acting as a co-marketing manager and staff writer. She loves to travel and live in the moment. Outside of school she loves being around people and trying to make the best out of every situation. Her favorite bible verse is Song of Songs 4:7 because it proves that everyone is beautiful and worthy. She also feels really strongly about helping with mental health and sharing others voices.