Love Behind Lyla
Born November 20th, 2003 Ross High School senior, Lyla Christine Brinck, loves the color purple, gummy candy and the Fourth of July. Just like many other seniors, Brinck attended her final homecoming dance this year with her sister and close friends by her side. Brinck is a very bright girl who has always loved to laugh and meet new people. She has very positive hopes for the furthering of her education and her future as a whole. On first meeting her, you'd never know how far she truly has come.
For those who remember the Fall of 2019, it was a very scary time. After a severe car crash that took place on Friday evening of homecoming weekend, Brinck and several others were rushed to the hospital where they spent much time recovering. Two years later, Brinck has managed to make a complete turn around, and has even come out with better relationships as well as views on life, as a result.
Brinck stated, "The most special thing I own for me is not an object, but a strong bond with my family I could never take for granted…I would say [because of the situation] our bond has gotten a lot stronger if anything. My brother and sister have always been my best friends and they always will be."
Surrounding yourself with the ones who will champion you at your low, as well as celebrate with you on your high, is how 17 year old Brinck has managed to come full circle in the last two years. Though she shows each and everyday how to be an overcomer, many still see where she once was at.
Brinck stated, "I sometimes do feel some people treat me differently, as if I'm fragile, which I do not feel I ever have been. Most do not though because they know I am not just the girl who got into an accident and I'm so much more than that. I have made a full recovery over the two years, I do though have memory issues but that does not affect me often."
Knowing that people may look at her differently has not slowed Brinck down but sped up her eagerness to love others and make new friends, as well as create new memories. For Brinck, October will always come in recollections of years past, but not necessarily the ones you would think.
Brinck stated, "The month of October to me is a flashback to when I was a little kid walking around my neighborhood trick-or-treating with my family."
Now a senior in high school, the little girl walking in the neighborhood is grown up. She has matured and grown in such a way that inspires all of those she meets. High school can be a tricky place. Not only are you in constant competition with even your closest of friends, but there's also the stigmatism that your current situation has to determine your outlook on life. Brinck is just one example defying the odds. Not only has she persevered through struggles that many of us will never have to experience, but she also does it with a smile on her face and a kind heart to welcome others in.
It is very important to pay attention to the now. Listen to your friends in the moment, watch what you say to others and guard your heart above all. Who you allow in has a very big impact on how you look at your life. Brinck's story emphasizes how life can move in an instant. Whether or not you allow it to change you as a person, is completely up to you.
Leave a Comment
About the Contributor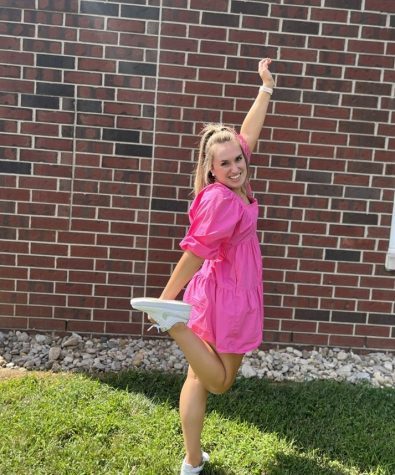 Lexie Gibbons, Editor and Staff Writer
Lexie is a senior at RHS and in her third year of journalism serving as an Editor and Staff Writer. She is an active part of Ross' Show Choir, but outside of school she enjoys traveling and spending time with the ones she loves most. Though no one truly ever knows what the future has in store, Lexie loves to laugh and make as many memories as possible!