Harvest Time
When you hear the word harvest, you probably think of pumpkins and corn stalks. Harvest time is among us. Farmers all around the world are starting to harvest their corn, soy beans, and many other goods.
Harvesting is the process of gathering a crop from the fields. Farmers will work from sun up to sun down just to get the crop in. Not all farmers are adults and many kids help with harvest to help their families.  
Junior Branden Minges stated that, "I truly enjoy working with my family because we all work with one another, and help each other get the crop out, we are a team it just feels great working with my favorite people."
You may see a lot of farm machinery, such as combines,grain wagons, grain trucks, or even semis on the roads this time of year. Most people don't realize how dangerous it can be if you were to hit a piece of machinery. 
Tim Buckley, a local farmer, stated that, "Years ago I was coming to Oxford on 27 and I had the planter. This woman that was coming towards me, wouldn't move over. I saw she wasn't paying attention so I went to the right and hit the road sign. There isn't much room on the road when driving a planter."
Others should watch out for machinery in the roads and be patient, as farmers are the reason we are all alive.
Harvest time is also a time where families gather together, go to festivals, and celebrate.
According to Google, "A harvest festival is an annual celebration that occurs around the time of the main harvest of a given region. Given the differences in climate and crops around the world, harvest festivals can be found at various times at different places."
During this time, please slow down and move over for farm machinery. Also don't forget to celebrate this time with family and friends! And when you see a farmer, thank them for all the hard work they put in this time of year.
About the Writer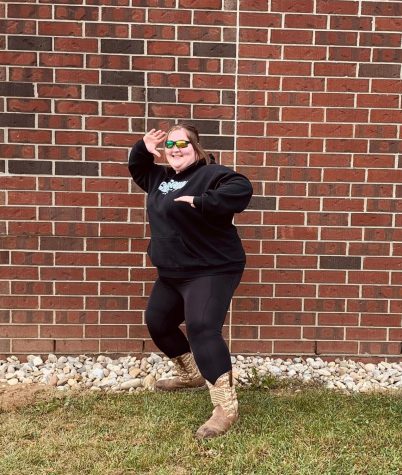 Lisa Brandenburg, Staff Writer
Lisa is a senior, and this is her 2nd year in journalism as a staff writer. She has also been in FFA for 4 years. Lisa has served as the RossFFA/BT chapter secretary for 2 years. Lisa loves writing about farming. One interesting thing about her is she loves haunted houses. In her free time she is either working with her dad or hanging out with friends. Lisa plans on going to Wilmington College for Criminal justice and serving in the military.