Opinion: Ticketmaster is a Master Plan of Monopoly
This past November, Taylor Swift announced her first tour in the past four years. Due to her being such a popular artist, fans had three ways to buy tickets, to ensure equal opportunities to all fans. There was a verified fan presale, a Capital One presale, and a general sale was scheduled. However, fans were greeted with a flawed purchasing system, overpriced tickets, a cancellation in the general sale because too many tickets were sold in presales, and a very negative experience overall. This caused more people to view the bigger issue, and the root of it all. 
A simple Google search reveals that Ticketmaster is a "child" of parent organization "Live Nation Entertainment." Live Nation Entertainment is the owner of many smaller companies. Each of these companies sell tickets to live shows, and create an income for Live Nation. 
The Taylor Swift debacle is not the first issue Ticketmaster has faced with fans and artists. In 1994, rock band Pearl Jam had a summer tour scheduled, and they wanted it to be affordable for all fans across the country. 
Before the sale, Pearl Jam asked Ticketmaster to keep extra charges under $1.80, because they had planned on making tickets under $20. Instead, Ticketmaster included a fee on ticket sales that was almost four times more than that. 
In a rebellion against Ticketmaster, Pearl Jam canceled their tour and took the corporation to court. They lost their case, but they made a big step in revealing the monopoly that Ticketmaster is, and bringing their unfairness to light.
Recently, it's been nearly 30 years since Pearl Jam rebelled against the boxoffice giant, and now modern artists are following in their footsteps. On Dec. 25, 2022 country music star Zach Bryan released a live album titled, All My Homies Hate Ticketmaster, as he vows to ensure affordable ticket prices in upcoming tours. 
Bryan said, "I am so tired of people saying things can't be done about this massive issue while huge monopolies sit there stealing money from working class people." 
Bryan is a huge influence in the music industry at the moment, just as Pearl Jam was back in the 90s. These artists taking the initiative to stop the up-charging ticket sales is just the start of a revolution in the market of live shows. If more artists would stand up for this issue, we may be able to see changes in the way the sales work. 
This raises the question of why artists continue to sell through Ticketmaster. Why can't they independently sell tickets, or why can venues sell tickets individually? The answer to that is in the monopoly itself. Not only does Live Nation Entertainment own many box office websites, but they own over 30 venues across the country, and are seeking to buy more. 
This makes it nearly impossible for artists to independently sell tickets because they physically can't. This is a prime example of how monopolies in a free market such as the American economy, can raise threats to the freedom of availability. When one group gains too much power, it takes the possibility of growth, and prosperity away from other potential companies, and it simply isn't a good thing for free markets. 
If Live Nation didn't own many smaller companies, there would be the opportunity for other companies to also offer box office services, but ones that cater to different demographics. Instead, many people don't get to experience live shows or concerts because of the price gouging ticketmaster shows in fee prices. 
However, if more artists, like Taylor Swift, would follow in the footsteps of other popular artists, like Zach Bryan, we might see a change. The possibility of change in the way we buy tickets, attend shows, and support artists, seems to lay in the hands of artists and how much compassion they hold for us. 
Shown by the upcoming Burn, Burn, Burn tour by Zach Bryan, it is possible to offer realistic, fair, and affordable shows to fans. Therefore, more artists should follow in his footsteps by standing up to big, free-market threatening businesses, and more consumers should support artists that are fighting for our availability to experience their shows live. 
Leave a Comment
About the Contributor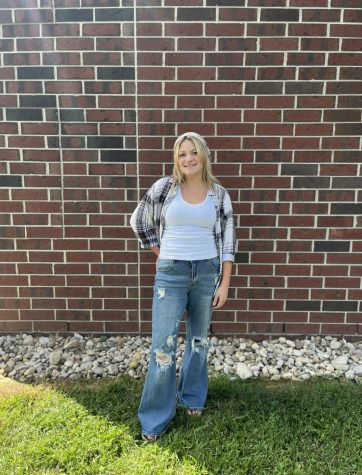 Alyssa Bruening, Staff Writer
Alyssa is a senior in her third year of journalism, and is a co-marketing manager for the RoHiTi. Alyssa loves Jesus, writing, and politics. She loves talking about her faith and beliefs, and she especially likes writing about them. One day Alyssa plans to get involved with politics by running for office. For fun, she likes hanging out with her family and friends and listening to music.