Helping the Community One Pointe at a Time
Many local businesses have had a rough time staying open through the recent pandemic rules, yet several businesses are still up and running as normal as they can be. Turning Point Dance Academy is one of many Ross businesses that have new capacity limits, sanitization rules and working hours. Turning Point Dance Academy has been in the Ross community for 18 years. The establishment is owned by Becky Denny with help from daughters and Ross Alumni, Hope Denny and Shanin Varner. Many of the dancers and their families consider the dance studio as a safe spot for them to express themselves. Many feared they were going to lose this due to the pandemic but like many small family-owned businesses the studio pushed through. 
Hope Denny, owner and teacher, stated, "We are unbelievably grateful to be able to reopen our doors again and welcome our dancers back home."
Heather Casteel, a dance parent, said, "What I like most is how the studio is family oriented and welcoming to all families. I don't feel much has changed due to the pandemic besides the fact that the siblings can not come and observe the others while they are in class, which is helping keep our children and other students safe."
Turning Point's biggest priority is the safety of the students and the health of all families. Randa Morrow, a dancer at Turning Point, had her senior season cut short last year due to the shutdown of the pandemic. Teacher Shanin Varner found a way for her to initially start over her senior year of dance and allow her to compete one last season. 
 "I feel so lucky to have another chance because I really do not know if I'll ever get another chance to dance in my life." stated Morrow. 
Morrow will be dancing a solo this season along with other senior group member Estella Varner.  She will be competing in four competitions this season along with a final farewell at the 18th annual Turning Point Dance Academy recital. 
Morrow also stated, "Turning Point is making it possible by keeping the money we had invested for the past season and investing it into this year's competition season." 
Turning Point is doing everything they can to be able to get the kids their dance season, they are following CDC guidelines and installing their own cleaning guidelines for the teachers to ensure everything is sanitized correctly.  
Denny wants the community to know how grateful TPDA is for all of the support. 
"To all of our dancers and families, we thank you for sticking with us through this difficult time as we know it has not been far from easy and being so supportive to our directors and owners." 
Leave a Comment
About the Contributor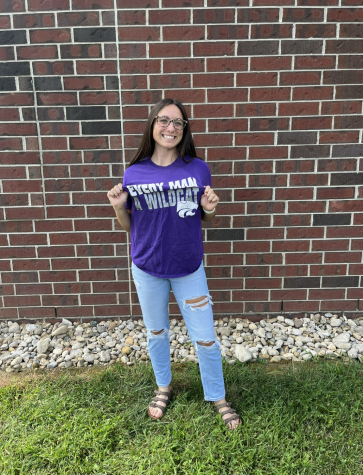 Estella Varner, Sports Editor and Staff Writer
Estella is a senior in her third year of journalism serving as the Sports Editor and Staff Writer. She is on the RHS swim and softball teams, and serves as the Student Athletic Trainer, Vice President of FCCLA as well as a part of a club soccer team and competitive dance team. Outside of school she enjoys spending time with her dog Apollo, friends and family. Estella plans on going into an Exercise Science degree with the path of Athletic Training post-graduation as well as playing college soccer at Mount Saint Joseph University.